Samsung Gear Fit 2 is now an even better fitness tracker with this update
The Samsung Gear Fit 2 is currently one of the best fitness trackers that money can buy, and part of that praise comes from the fact that it keeps getting regular updates nearly a year after its release.
The latest update to land brings a few minor, but nevertheless welcome improvements that squeeze even more goodness out the wearable.
Samsung's second-gen smartwatch-lite tracker features a heart rate monitor, which is super useful when you're trying to measure your exertion during fitness activities. Now, it can break down how long you've spent between different levels of heart rate zones.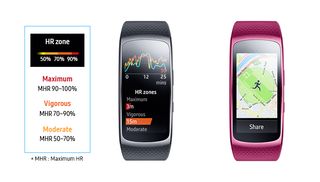 For hardcore athletes, especially marathon runners, maintaining a steady heart rate is key to staying in the race. Even for more general users, knowing how your heart behaves during workouts is incredibly useful to study.
Better yet, the update also adds the ability to help you get to your desired heart rate zone. The Gear Fit 2 will set the pace and guide you to where you need to be, all hands-free.
A custom at-a-glance look and more
Fitness trackers are notorious for having small screens, or no screen at all. Thankfully, Samsung's has quite a sizeable Super AMOLED display, but absorbing details at-a-glance is still challenging.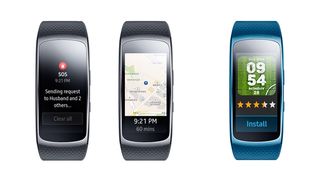 The new update brings along the ability to toggle metrics on the workout screen with just a tap. For instance, Instead of scrolling through menus to see how long you've been active or your current heart rate, you can simply tap the screen and it will swap out the numbers.
The final notable improvement to the wearable is the new SOS feature. If you run into trouble in the gym or out in the wild, you can triple press the home key to send a customized alert to the people of your choosing. It seems like this will only work if you have your phone on you, but it's still a useful feature.